Washington County MD • Frederick County MD • Franklin County PA
• Berkeley County WV • Jefferson County WV
• Morgan County WV • Adams County PA
Two-Story Homes: The Calvert
Starting at "A"-$220,700. "B"-$225,300, "C"-$217,500 *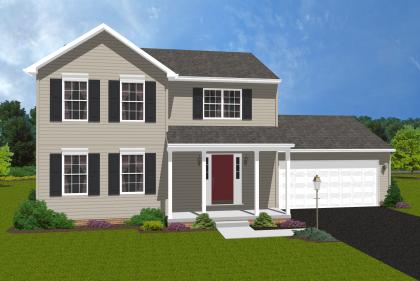 Click a thumbnail to see it larger:
This is a very practical two story home with a Living room, Dining room and eat-in Kitchen. The three bedrooms share a large bath with an option for two full baths. This home includes a full unfinished basement and two car garage.
This home has 1,620
sq. ft. of living space.
* = "Starting at" price includes home only. Price does not include land, site work, permits, or fees. Contact Oliver Homes for details.