Cape Cod Homes: The Jefferson
Starting at "A"-$255,950. "B"-$242,750. *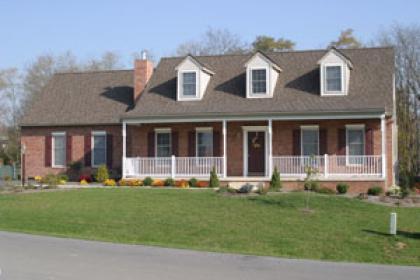 Click a thumbnail to see it larger:
A very popular Cape Cod style home.
A nostalgic front porch, gabled roof dormers and a double garage provide charm and great value. In addition, you have a great Kitchen, Formal Dining Room, Living Room and a Master Bedroom Suite you will love. Even your laundry area is on the main floor for convenience.
Take a good look at the upstairs...2 very large bedrooms, each with walk-in closets, a nice second full bath. 1,867 sq. ft. with a full basement. Optional upstairs floor plan available creates a Jack and Jill bathroom.
* = "Starting at" price includes home only. Price does not include land, site work, permits, or fees. Contact Oliver Homes for details.